What's up everyone? I'm out by the airport in Hebron. I own a 99 Cherokee and 05 black SRT Neon. My girlfriend also has an 05 SRT Neon in orange. Her's is stock, mine is a stage 3 car with all the other Mopar bolt-ons. I am basically just a Mopar freak. If it's Mopar, it's for me!
---
Local Neon Owner
Posts: 203
Joined: Tue May 16, 2006 10:06 pm
Location: Dublin Ohio
sweet well welcome...do you take the Cherokee off-roading?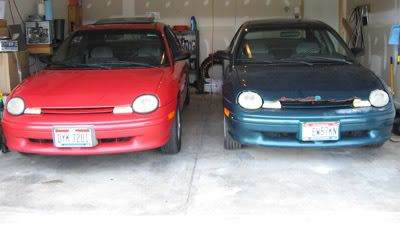 ---
---
Local Neon Owner
Posts: 169
Joined: Wed Aug 24, 2005 12:19 pm
Location: Indianapolis, IN
Glad that you found us! Nice to know of another black SRT!
"Gramps"
"(It was a) little souped-up race car. These Dodge SRT Neons are turbo-charged... It's too much power, not enough car... "
Florida Highway Patrol Trooper Jason Brooks
---
Local Neon Owner
Posts: 482
Joined: Fri Jun 25, 2004 11:23 pm
Location: columbus (dublin), ohio
Contact:
welcome.
i'm a traitor.
i still love mopar though, honest.
---
Local Neon Owner
Posts: 220
Joined: Mon May 08, 2006 7:57 am
Location: Columbus, Ohio
Contact:
WELCOME COME UP TO COLUMBUS SOMETIME!!! LMK when your coming and we can meet up!!
Brandon Burns

Intense Blue 98 Neon R/T-(Project Srt coupe)
Black 98 Neon R/T-The DD(Project AAR Neon)
Intense Blue 98 Neon-teh beater sohc,atx,13 inch hubcaps FTW!!
---
Glad to see you made it over here!
1ST GEN PARTS FOR SALE! CLICK HERE!

1986 Corolla GT-S coupe - 1995 Neon SOHC MTX sedan
DO NOT DO BUSINESS WITH ERIE INSURANCE!!!
---
---
---
stetter wrote:where by the airport do you live. i live in derby farms off of conrad. and i see a black and a orange srt coming in and out of here all the time
That's us. We're down on Ferdinand. Stop on by some day. I'm usually messing around in the garage. I've seen you around too. Warning: I only stock Budweiser.
---
Local Neon Owner
Posts: 104
Joined: Fri Feb 24, 2006 7:13 pm
Location: Newark, Ohio
Contact:
Welcome, You and you're girl both drive SRT's, That's awsome. My wife would be very jealous. She has been wanting one ever since I got mine, but she is so upside down on her car that she has to wait till she pays it off next year.
- Mike
---