Local Neon Owner
Posts: 203
Joined: Tue May 16, 2006 10:06 pm
Location: Dublin Ohio
this forum/club died down since 1gn opened? lol.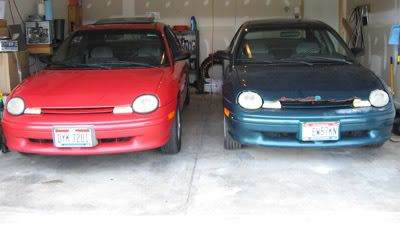 ---
Local Neon Owner
Posts: 411
Joined: Wed Dec 01, 2004 1:43 pm
Location: Reynoldsburg Ohio [columbus]
Contact:
Well Im not over there soo I couldnt tell ya, lol
-SEAN
SRT-4 is king of the Street
Cbussilver01es on 2GN!!!!

---
Local Neon Owner
Posts: 169
Joined: Wed Aug 24, 2005 12:19 pm
Location: Indianapolis, IN
Me either. Probably seems less active due to the weather. Things will start picking up.
"Gramps"
"(It was a) little souped-up race car. These Dodge SRT Neons are turbo-charged... It's too much power, not enough car... "
Florida Highway Patrol Trooper Jason Brooks
---
Local Neon Owner
Posts: 220
Joined: Mon May 08, 2006 7:57 am
Location: Columbus, Ohio
Contact:
im not on 1st gen either.. DEFIANTLY the weather.
Brandon Burns

Intense Blue 98 Neon R/T-(Project Srt coupe)
Black 98 Neon R/T-The DD(Project AAR Neon)
Intense Blue 98 Neon-teh beater sohc,atx,13 inch hubcaps FTW!!
---